Recipes
Bare Burrito Bowl
One serving provides 2 oz M/MA, 1/2 cup Beans, 1 oz Whole Grain
Recipe Yield: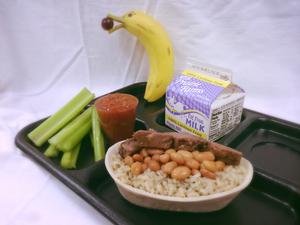 Ingredients
| Amount | Item |
| --- | --- |
| 40 each | Tostada Bowls |
| 5 lbs | Beef fajita pattie strips |
| 1 bag | Foothill Farms Cilantro Lime Rice Mix (S162-F6190) |
| 2 1/2 lbs | Rice, brown, long grain, parboiled |
| 1 bag | Foothill Farms Charro Style Bean Seasoning (V461-F6190) |
| 1 #10 Can | Pinto beans |
| 3 1/2 qts | Hot water (180°-190°F) |
Instructions
To prepare beef: Bake frozen product in a convection oven pre-heated to 375°F for 15-20 minutes or until internal temperature reaches 165°F.

To prepare beans: In a half pan, add contents of Seasoning packet to pinto beans. Stir until well blended. Cover and bake in convection oven at 400°F for 20-25 minutes or until product reaches a temperature of 180°F.

To prepare rice: In a 2" full-size steam table pan, combine hot water, rice, contents of Rice Seasoning packet and butter (optional). Stir well. Cover with foil or pan lid and bake in a 350°F convection oven for 40-45 minutes or until water is absorbed. Keep warm (160°F).

To assemble bowls: Place tostada shells on a sheet pan. Place 1/2 cup of prepared cilantro lime rice at the bottom. Top rice with 1/2 cup of seasoned Charro Beans. Place two fajita strips on top.