Recipes
Chicken Tetrazzini
7.75 oz serving provides 2 oz eq M/MA, 2 oz eq whole grain
Recipe Yield: 100 - 7.75 ounce servings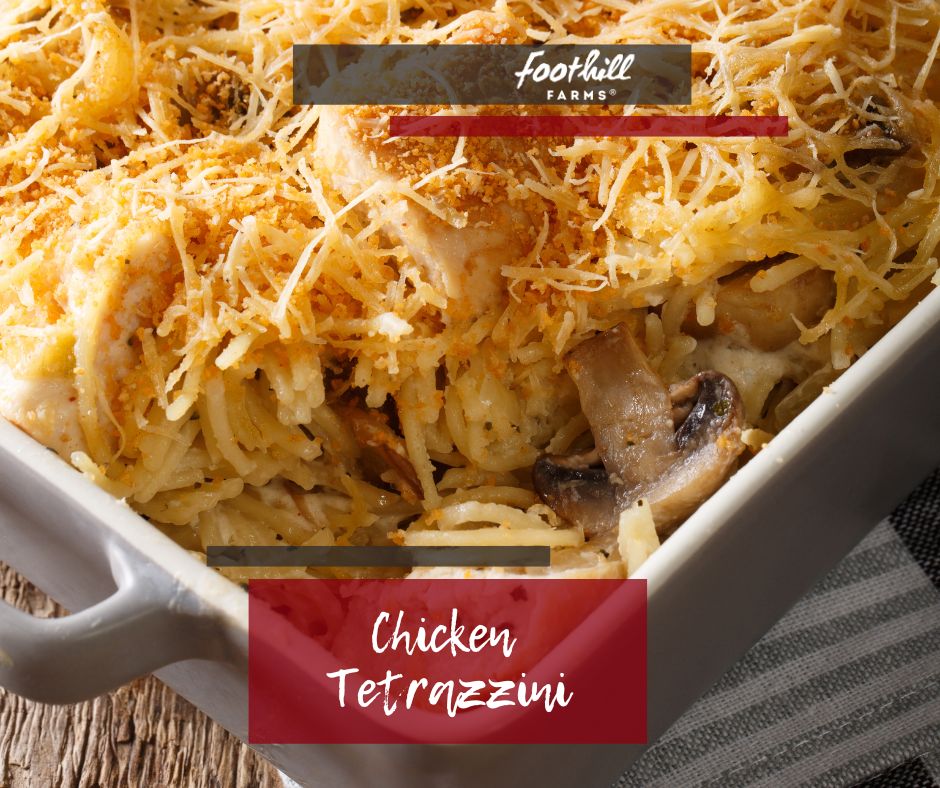 Ingredients
| Amount | Item |
| --- | --- |
| 20 1/2 lb | Spaghetti, whole grain, cooked, no salt added |
| 6 bags | Foothill Farms® Alfredo Sauce Instant Mix (575T) |
| 3 gal | Hot water (180°-190°F) |
| 11 lb | Chicken, diced 1/2", cooked & thawed |
| 1 1/2 lb | American cheese shredded |
| 4 oz | Parsley, fresh |
Instructions
Pour hot water into mixing container. Pour contents of 6 bag of Deluxe Alfredo Sauce Mix into water while vigorously stirring with a wire whisk. Continue stirring until mix is dissolved and sauce is smooth.

Combine cooked spaghetti, Alfredo Sauce and chicken.

Divide equally between four steam table pans. Sprinkle 4 oz of shredded American Cheese over each pan. Cover with film and foil.

Bake at 325°F for 30 minutes or until product reaches 160°F.