Recipes
Creamy Chicken Alfredo
Grilled chicken breast strips and penne pasta oven-baked in a creamy Alfredo sauce with a layer of melted cheese.
Recipe Yield: 24 servings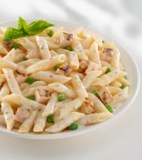 Ingredients
| Amount | Item |
| --- | --- |
| 2 lb | Grilled Chicken, diced, fully cooked |
| 1/2 gal | Hot water (180°-190°F) |
| 1 bag | Foothill Farms® Alfredo (Creamy Parmesan) Sauce Instant Mix (either #090T or #575T) |
| 3 lb | Precooked penne pasta |
| 5 c | Shredded, mozzarella cheese |
Instructions
To prepare chicken: Thaw chicken in cooler overnight or until fully thawed.

To prepare sauce: Pour hot water into mixing container. Pour contents of Sauce Mix into water while vigorously stirring with a wire whisk. Continue stirring until mix is dissolved and sauce is smooth. Set aside.

Place pasta and chicken in full-size pan. Pour cheese sauce over. Stir to combine. Sprinkle shredded cheese over mixture.

Place in 350°F convection oven 15 - 20 minutes or until internal temperature reaches 165°F.