Recipes
Fiesta Salsa Ranch Dressing
A blend of salsa and our delicious Ranch Dressing makes one of the most versatile dressings/dips. Also great as a topping for pasta, omelets or on taco salad.
Recipe Yield: 160 2-Tbsp servings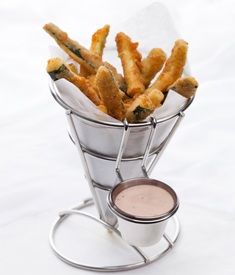 Ingredients
| Amount | Item |
| --- | --- |
| 1/2 gal | Buttermilk |
| 1 bag | Foothill Farms® Ranch Salad Dressing Mix (regular-V400 or no MSG-V402) |
| 1/2 gal | Mayonnaise |
| 1 qt | Chunky tomato salsa |
| | (Try with salsa made from Foothill Farms® Salsa Seasoning Mix #V425) |
Instructions
In large bowl, add Ranch Dressing Mix (3.2 oz) to buttermilk. Mix well with wire whisk or electric mixer at low speed.

Add mayonnaise and continue mixing at low speed about 2 minutes until smooth.

Blend in salsa at low speed until combined.

Refrigerate 3-4 hours so dressing will thicken. Stir before using. Store in refrigerator.

NOTE: Some of the liquid can be drained off the salsa prior to adding to maintain viscosity. This dressing can be made "light" or "fat free" by using 3 qts. buttermilk and 1 qt. light or fat free mayonnaise.