Recipes
Loaded Baked Potato Soup
A top selling favorite no matter the season. Using Cream Soup Base with left over baked potatoes guarantees low food cost.
Recipe Yield: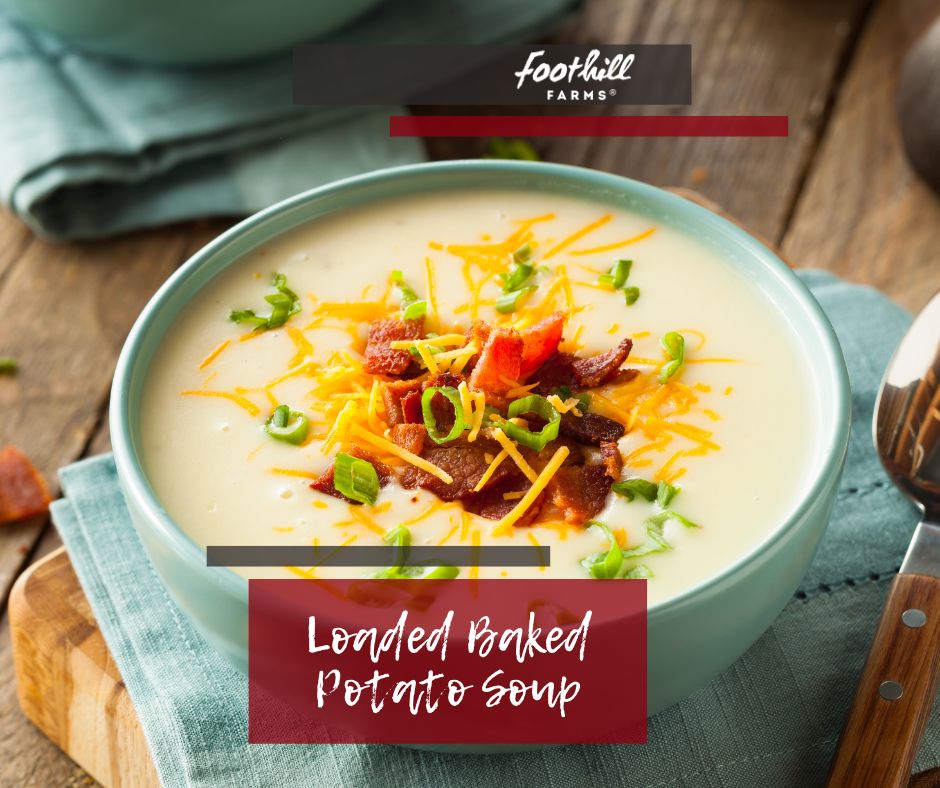 Ingredients
| Amount | Item |
| --- | --- |
| 1 gal | Hot water (180°-190°F) |
| 1 bag | Foothill Farms® Cream Soup Base Mix (either #067T or #096T) |
| 1 1/2 cups | Cooked Bacon Crumbles |
| 1/2 medium | Yellow Onion, Julienned |
| 5 | Large Left Over Baked Potatoes, diced |
| 2 cups | Sour Cream |
| 1 cup | Shredded Cheddar Cheese, divided |
| 1/4 cup | Chopped Chives |
Instructions
In a large stock pot, pour Cream Soup Base Mix (28 oz) into hot water while stirring with a wire whip. Continue to stir until mix is completely dissolved and soup base is smooth. Set aside.

In a seperate pot, sear the bacon crumbles and onions, being careful not to burn the bacon but allowing onion to tenderize.

Gently fold in diced potatoes and sour cream into bacon/onion mixture.

Pour the baon/onion/sour cream mixture into the Cream Soup Base and stir gently to incorporate.

Add 3/4 cup of shredded cheddar cheese and bring mixture up to desired temperature, stirring occasionally.

Garnish bowls of soup with remaining shredded cheese and chives.