Recipes
Meatball Bowl
9.17 oz serving provides 2 oz M/MA, 0.5 c Red/Orange Vegetable, 0.5c starchy
Recipe Yield: 100 - 9.17 oz servings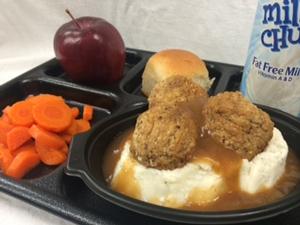 Ingredients
| Amount | Item |
| --- | --- |
| 13 3/4 lb | Meatballs, beef, fully cooked, 0.55 oz |
| 2 bags | Foothill Farms® Brown Gravy Mix (G405) |
| 2 1/15 gal | Hot water (180°-190°F) |
| 400 oz | Potato, mashed Instant/Dry |
| 25 cups | Carrots, diced and cooked |
Instructions
Prepare meatballs, mashed potatoes and carrots according to package directions.

To prepare gravy: pour water into mixing container. Pour contents of Gravy Mix into water while vigorously stirring with a wire whisk. Continue stirring until mix is dissolved and gravy is smooth.

To prepare bowl: place 4 meatballs in the bottom of the bowl, top with 1/2 c of carrots, 1/2 c mashed potatoes and top with 1/4 c brown gravy.