Recipes
Moroccan Sweet Potato Skins with Marrakesh Dip
Luscious sweet potatoes strips are cooked to a crispy golden color and topped with a sprinkling of fresh cilantro. A refreshing Marrakesh dip made from Greek yogurt, orange marmalade and chopped mint leaves accompanies this side.
Recipe Yield: 24 - 4 strips/potato skins; 2 Tbsp Marrakesh Dip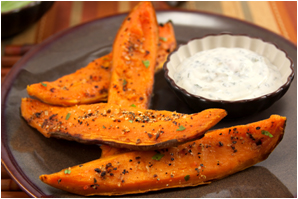 Ingredients
| Amount | Item |
| --- | --- |
| 2 1/2 Cup | Greek style yogurt; plain |
| 1/2 cup | Orange Marmalade; prepared |
| 2 Tbsp | Mint; fresh, small chop |
| 2/3 cup | Mrs. Dash Lemon Pepper Seasoning Blend |
| 1/2 cup | Extra Virgin Olive Oli |
| 1/2 cup | Water |
| 16 medium | Sweet Potatoes; whole |
| 1/4 cup | Cilantro; fresh, small chopped |
Instructions
To prepare the Marrakesh Dip: Evenly combine all ingredients. Reserve cold. Makes 3 C.

To prepare the Potato Skins: Preheat oven to 425°F. Combine Mrs. Dash Lemon Pepper with olive oil and water. Reserve until ready to brush on sweet potato skins in step 7.

Pierce sweet potatoes all over with a fork then arrange on a lightly greased foil-lined sheet pan and bake until tender but not mushy, approximately 60 minutes.

Transfer cooked potatoes to a cutting board when cool enough to handle (approximately 10 minutes).

Slice each potato in half lengthwise and scoop out the flesh; leaving about ¼" thick edge along the sides and bottom of each potato half. Reserve the scooped out flesh for another use (see hints).

Cut each potato half lengthwise, into 3 equal width skins/strips (totaling 96 strips).

Arrange potato skins on lightly greased foil lined sheet pans. Brush each skin evenly with the Mrs. Dash Lemon Pepper-olive oil mixture.

Broil the skins until crispy golden in color and piping hot. Remove from oven and evenly sprinkle the skins with cilantro.

Serve immediately with Marrakesh Dip.

HINTS: Seasoned skins can be kept refrigerated and broiled under the salamander to order. The seasoned skins could also be finished in an oven.

HINTS: Serve dip in a ramekin or place it in a squirt bottle with a wide tip and zig zag the dip over the skins.

HINTS: For spicier skins, increase the amount of Mrs. Dash Lemon Pepper to ½ cup (from 1/3 cup).

HINTS: Russet potatoes could easily be substituted for sweet potatoes.

HINTS: Pairs well with main entrees of chicken, beef, pork, fish/seafood.

HINTS: Saved scooped out sweet potatoes can be used for many applications: mashed potatoes, potato pancakes, a base for soup.