Recipes
Southwestern Breakfast Wrap
Scrambled eggs meet the spicy flavors of southwest with salsa, peppers and Monterey Jack cheese in a warm tortilla
Recipe Yield: 30 servings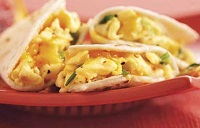 Ingredients
| Amount | Item |
| --- | --- |
| 30 large | Flour Tortillas |
| 30 medium | Eggs |
| 1/2 c | Mrs. Dash® Southwest Chipotle Seasoning Blend |
| 2 c | Salsa |
| 1/2 c | Unsalted Butter |
| 7 1/2 c | Monterey Jack Cheese, Shredded |
Instructions
Wrap tortillas in foil to keep warm in low oven.

Beat eggs. Stir in Mrs. Dash Extra Spicy Seasoning Blend.

Melt butter in large skillet over medium heat. Add egg mixture, stirring gently until eggs are cooked.

Remove tortillas from oven and lay out in a row.

Fill the middle of each tortilla with egg mixture, then top with salsa and cheese.

Fold bottom of tortillas and roll sides in to form a tight wrap, leaving top open.

Serve immediately, or wrap in foil for a to-go option.