Recipes
Sunshine Polenta
These square beauties are pan seared, sliced in half and served piping hot, crispy on the outside-creamy on the inside, alongside your favorite entrée.
Recipe Yield: 24 - 1 square (sliced in 1/2)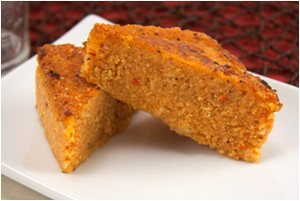 Ingredients
| Amount | Item |
| --- | --- |
| 2 16.5 oz jars | Roasted Red Bell Peppers |
| 2 Tbsp | Vegetable Oil |
| 3 small | Spanish Onions; peeled & minced |
| 6 cups | Polenta (coarse ground) |
| 1 gallon | Vegetable Stock (no salt) |
| 1/2 cup | Mrs. Dash Lemon Pepper Seasoning Blend |
| 2 cups | Spanish Onions; minced & caramelized |
| 4 cups | Machego/Asadero/Queso Quesadilla Cheese Blend; finely grated |
Instructions
To prepare roasted red bell pepper purre: Pour the entire contents of the jars into a blender and puree until smooth. Reserve for main recipe. Makes 4 C.

To prepared caramelized onions: Heat the oil in a non-stick sauté pan over medium heat. Add the onions and cook until caramelized to an even golden brown. Reserve for main recipe. Makes 2 C.

To prepare the main recipe, Sunshine Polenta Triangles: Prepare ½ sheet pan by completely lining the entire pan with Saran wrap. Lightly spray the wrap with non-stick spray. Reserve for finished polenta step 5.

Combine polenta, vegetable stock, bell pepper puree, Mrs. Dash Lemon Pepper and onions in a large stock pot.

Bring ingredients to a boil, stirring frequently; reduce heat to low and simmer for 30 minutes (stirring occasionally). Be careful as the polenta will spit and splatter as it heats up and cooks. Adjust burner temperature appropriately. Polenta will be thick and creamy when finished cooking.

Remove pot from heat and evenly stir in the cheese until fully combined.

Pour polenta into reserved ½ sheet pan. Fill to the very top of the pan, smoothing out polenta in an even layer.

Refrigerate pan 2 hours; or until the polenta is completely firm and set up.

Remove polenta from the sheet pan by placing a cutting board over the polenta, than flipping board over releasing polenta from the pan. Peel off the wrap.

Slice polenta into 24 equal portion squares – 4"wide by 6" long.

Pan sear each square to order using a Teflon pan (or griddle with non-stick pan spray). Slice in half crosswise and serve hot.

HINT: Polenta squares can be held refrigerated until needed and then cooked to order.

HINT: Substitute your favorite types of cheese in this recipe; such as, Monterey jack, parmesan, asiago, mozzarella or fontina. Note that cheese adds sodium.

HINT: Polenta could be cut into other shapes, although squares provide 100% yield.

HINT: Prepare soft and spooned like a mashed potato (directly from being cooked vs. forming in the pan).

HINT: Use a grill or even a cast iron grill pan for the final cooking of the polenta in step 9. Polenta can also be pre-marked with grill marks than refrigerated and heated in the oven at time of service, which works great for buffets and catering.