Recipes
Roasted Garlic Peppercorn Ranch Dressing
Roasted garlic combines with Foothill Farms Ranch Salad Dressing to create an exquisite dressing worthy of the finest steak house.
Recipe Yield: 144 2-Tbsp servings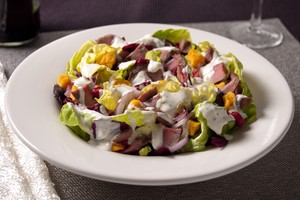 Ingredients
| Amount | Item |
| --- | --- |
| 8 bulbs | fresh garlic |
| 1 pkg. | Foothill Farms® Ranch Salad Dressing Mix (regular-V400 or no MSG-V402) |
| 1/2 gal. | buttermilk |
| 1/2 gal. | mayonnaise |
| 3/4 cup | cracked black peppercorns |
Instructions
Lightly coat 8 bulbs of garlic with olive oil. Sprinkle with salt and pepper. Wrap in two sheets of heavy aluminum foil and place in preheated 400 degree oven for 1-1 1/2 hours until bulbs are soft to the touch and have a strong aroma. Set aside and allow to cool thoroughly.

In large mixing bowl add ranch salad dressing mix to buttermilk. Mix well with wire whisk or electric mixer at low speed.

Add mayonnaise and continue mixing at low speed about 2 minutes until smooth.

Cut galric bulbs across in half and squeeze out the soft garlic center. Place into a food processor and blend until it reaches a peanut butter consistency.

Whisk in the roasted garlic and the coarsely cracked black pepper.

Refrigerate 3-4 hours so dressing will thicken. Stir before using. Store in refrigerator.

NOTE: This dressing can be made "light" or "fat free" by using 3 qts. buttermilk and 1 qt. light or fat free mayonnaise.