Recipes
Creamed Chicken & Noodles
Chicken & noodles couldn't be easier to prepare—or tastier to eat. This is sure to be a favorite with your customers. It's so quick to put together and your customers will be requesting it often. This is comfort food at its homey best!
Recipe Yield: Two half-size steam pans, 2½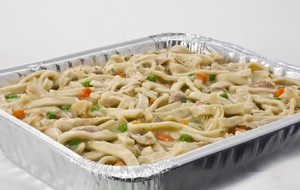 Ingredients
| Amount | Item |
| --- | --- |
| 1 package | Foothill Farms® Savory Poultry Gravy Mix(#323T), prepared as directed on package (makes 1 gallon) |
| 1 lbs. | chicken (restaged and shredded) |
| 4 cups | frozen mixed peas and carrots, thawed (optional) |
| 3 lbs. | cooked pasta |
Instructions
Preheat oven to 350° F.

Combine 2 quarts (8 cups) Savory Poultry Gravy, chicken and thawed peas and carrots. Cover and refrigerate remaining gravy.

Pour sauce mixture over cooked pasta and stir gently to combine. Divide mixture evenly between two 2½" deep half pans.

Cover pans and bake until internal temperature of product reaches 165° F. Begin to check temperature of product after 30 minutes in oven.

NOTE: Savory Poultry Gravy Mix yields 1 gallon of gravy. This recipe uses 2 quarts (8 cups). Store remainder tightly covered in refrigerator for up to 5 days.