Recipes
Cobb Salad Cup with BBQ Ranch Dressing
Smart Snack Approved as an entree. Meets calorie, fat and sodium requirements for center of plate. Provides 1 cup vegetable, 3 oz M/MA, 1/4 cup fruit
Recipe Yield: 1 salad cup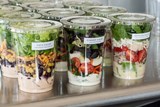 Ingredients
| Amount | Item |
| --- | --- |
| 1 bag | Foothill Farms® Ranch Dressing Mix - No MSG, Reduced Sodium (#V402) |
| 1/2 gal | Buttermilk |
| 1/2 gal | Mayonnaise, reduced calorie |
| 1 qt | BBQ Sauce |
| 1 oz | Diced chicken, fully cooked, IQF, 1/2" squares |
| 1 large | Hard-boiled egg, sliced |
| 1/4 c | Avocado cubes |
| 1/4 c | Chopped red onion |
| 1/4 c | Chopped tomato |
| 1 c | Chopped romaine lettuce |
Instructions
For Ranch Dressing: In a large mixing bowl add Ranch Dressing Mix (3.2 oz) to buttermilk. Mix well with wire whisk or electric mixer at low speed. Add mayonnaise and continue mixing at low speed, about 2 minutes. Add in BBQ sauce. Stir to combined. Set aside.

In a transparent 20 oz cup with lid, layer the following items in order: 2 Tbsp BBQ Ranch Dressing, onion, tomatoes, chicken, egg and avocado. Lettuce goes on top so dressing will not wilt it. Cover with lid.

When ready to eat, open lid and turn over onto a plate. Salad is completely prepared with lettuce on bottom and dressing on top.

To request a sample of Foothill Farms Ranch Dressing Mix (No MSG, Reduced Sodium), go to the About Us tab above and click on Contact Us.