Recipes
Pineapple Pork Sauce
This sauce is delicious and easy to make. Tangy and sweet and served over pork.
Recipe Yield: 76 - 1/4c servings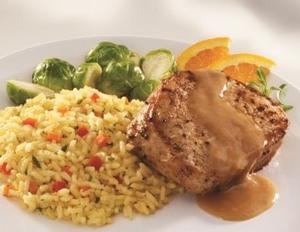 Ingredients
| Amount | Item |
| --- | --- |
| 13 cups | Hot water (180°-190°F) |
| 1 bag | Foothill Farms® Pork Flavor Gravy Instant Mix (076T) |
| 6 cups | Pineapple juice |
Instructions
Pour water into mixing bowl or container. Pour contents of pouch (14.0 oz) into water while vigorously stirring with a wire whisk or with a mixer on low speed. Continue stirring until mix is completely dissolved and gravy is smooth.

Add pineapple juice and stir until combined.

Serve over pork with raisins.

Tip: Add plumped raisins, pineapple tidbits. Could switch out pineapple juice for apple juice and add chopped apples and raisins.