News
DOLE® Soft Serve Introduces New Lemon Flavor
December 26, 2014
Pucker up! DOLE® Soft Serve is adding Lemon to their flavor repertoire starting this January! Operators can choose from six dairy-free, gluten-free, fruit-flavored soft serve mixes made for commercial foodservice use. Lemon will kick off the brand's "Flavor of the Year" initiative.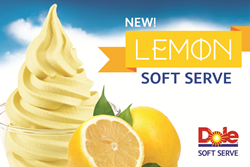 DOLE® Soft Serve flavor offerings include: Mango, Orange, Pineapple, Raspberry, Strawberry and now Lemon. All of DOLE's fruit flavors are free from fat, lactose, dairy, gluten and cholesterol and made with natural colors. Also, Lemon is made with natural flavors.
"We think operators and consumers will love Lemon," said Jamie Schwartz, product marketing manager. "It has so many unique applications outside of just a cup or cone." A recipe guide that highlights the versatility of Lemon soft serve is scheduled to publish early in the New Year.
If you are interested in adding Lemon DOLE® Soft Serve to your order, please talk with your foodservice broker, contact customer service at (800) 442-5242 or visit http://dolesoftserve.com.
About DOLE® Soft Serve
DOLE® Soft Serve has partnered with St. Louis based manufacturer Kent Precision Foods Group (KPFG) for over 17 years. Many independent soft serve shops, froyo franchises, theme parks and casinos serve DOLE Soft Serve. The brand offers six fruit flavors free from dairy, fat, cholesterol, gluten, and lactose. Its Chocolate and Vanilla flavors are low fat, lactose, cholesterol and gluten free. For more information, visit the company's website dolesoftserve.com, "like" them on Facebook or follow the brand on Twitter @dolesoftserve.
< Back to News